About Us
The Balti Taste is a Indian takeaway in Oldham. Why don't you try our Sambar (Medium) or Hawaiian Burger?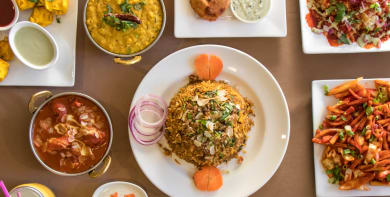 Reviews
135 reviews
Adam
"Lovely yet again 😋"
27/03/2021
Daniel
"Good quality food"
26/03/2021
Jill
"Lovely food. Brilliant service."
12/03/2021
Julia
"As always lovely food. Only place I've found for a spot on chicken and cheese kofta. Surprisingly food delivered quicker than the quoted time by a very polite young man."
10/03/2021
Menu
Quarter Tandoori Chicken Starter
£3.40
Mixed Kebab Starter
Chicken tikka, lamb tikka & seekh kebab
£3.80
Tandoori Lamb Chops Starter
£5.95
Special Mixed Platter Starter For 1
Chicken tikka, lamb tikka, seekh kebab, lamb chops & chicken wings
£9.95
Special Mixed Platter for 2
Chicken tikka, lamb tikka, seekh kebab, lamb chops, chicken wings, onion bhaji, meat samosa, vegetable samosa, chicken pakora & chicken rolls with salad & mint sauce
£16.95
Tikka Starter Thai Chicken
£4.95
Tikka Stir-Fry Chicken
Succulent pieces of chicken breast OR tender lean lamb marinated in a special blend of tandoori spices, then cooked with a blend of spices with onions, peppers & a touch of Bangladeshi tasty sauce
£8.95
Tikka Stir-Fry Lamb
Succulent pieces of chicken breast OR tender lean lamb marinated in a special blend of tandoori spices, then cooked with a blend of spices with onions, peppers & a touch of Bangladeshi tasty sauce
£8.95
Shashlik Chicken
Succulent pieces of chicken breast OR tender lean lamb marinated in a special blend of spiced peppers, onions & tomatoes
£8.45
Shashlik Lamb
Succulent pieces of chicken breast OR tender lean lamb marinated in a special blend of spiced peppers, onions & tomatoes
£8.45
Tikka Main Chicken
Succulent pieces of chicken breast OR tender lean lamb marinated a special blend of tandoori spices, then cooked on skewers
£7.95
Tikka Main Lamb
Succulent pieces of chicken breast OR tender lean lamb marinated a special blend of tandoori spices, then cooked on skewers
£7.95
Tandoori Chicken
Half chicken marinated in tandoori spices & cooked on skewers
£7.95
Tandoori Special
A combination of chicken tikka, lamb tikka, seekh kebab, tandoori chicken & spicy wings
£9.95
Tandoori King Prawn
Tiger king prawns marinated in delicious herbs & spices & masala sauce then cooked in the tandoori oven
£13.95
Tandoori Lamb Chops Main
Succulent pieces of tender lean lamb marinated in a special blend of tandoori spices, then cooked on skewers
£9.95
Fish Tikka
Succulent pieces of Bangladeshi pangas fish cooked in the tandoori oven
£7.95
Tandoori King Prawn Shashlik
Succulent pieces of large selection of king prawns, green pepper, onions & tomatoes cooked in the tandoori oven
£14.95
Spicy Wings
Chicken wings marinated in tandoori spices & cooked on skewers
£7.95
Balti Chilli (Hot) Chicken Tikka
Cooked in herbs & spices with green chillies to give a hot & spicy taste
£7.60
Balti Chilli (Hot) Lamb Tikka
Cooked in herbs & spices with green chillies to give a hot & spicy taste
£7.60
Balti Chilli (Hot) King Prawn
Cooked in herbs & spices with green chillies to give a hot & spicy taste
£13.95
Jalfrezi (Hot) Chicken Tikka
A fairly hot curry cooked with onions, capsicum & fresh green chillies
£7.60
Jalfrezi (Hot) Lamb Tikka
A fairly hot curry cooked with onions, capsicum & fresh green chillies
£7.60
Jalfrezi (Hot) King Prawn
A fairly hot curry cooked with onions, capsicum & fresh green chillies
£13.95
Chilli Masala (Medium) Chicken Tikka
Cooked with fresh spices, chillies & a touch of masala sauce with tomatoes in a hot spicy sauce
£7.60
Chilli Masala (Medium) Lamb Tikka
Cooked with fresh spices, chillies & a touch of masala sauce with tomatoes in a hot spicy sauce
£7.60
Chilli Masala (Medium) King Prawn
Cooked with fresh spices, chillies & a touch of masala sauce with tomatoes in a hot spicy sauce
£13.95
Tandoori Chicken Masala
Cooked in mild spices, masala sauce & fresh cream to give a rich creamy taste
Off the bone
£7.95
Masala (Mild) Chicken Tikka
Cooked in mild spices, masala sauce & fresh cream to give a rich creamy taste
£7.60
Masala (Mild) Lamb Tikka
Cooked in mild spices, masala sauce & fresh cream to give a rich creamy taste
£7.60
Masala (Mild) King Prawn
Cooked in mild spices, masala sauce & fresh cream to give a rich creamy taste
£13.95
Tandoori King Prawn Masala (Medium)
King prawns marinated in tandoori sauce, barbecued in the tandoori oven then cooked in a rich creamy masala sauce
£13.95
Karahi (Medium) Chicken Tikka
Delicately spiced with fresh herbs & spices
Cooked with onions, plum tomatoes, capsicum & garnished with coriander
£7.60
Karahi (Medium) Lamb Tikka
Delicately spiced with fresh herbs & spices
Cooked with onions, plum tomatoes, capsicum & garnished with coriander
£7.60
Karahi (Medium) King Prawn
Delicately spiced with fresh herbs & spices
Cooked with onions, plum tomatoes, capsicum & garnished with coriander
£13.95
Makhani (Mild) Chicken Tikka
Cooked with butter & ginger in mild almond sauce with mango pulp
£7.60
Makhani (Mild) Lamb Tikka
Cooked with butter & ginger in mild almond sauce with mango pulp
£7.60
Makhani (Mild) King Prawn
Cooked with butter & ginger in mild almond sauce with mango pulp
£13.95
Balti Exotica (Medium)
Combination of lamb, chicken & king prawns cooked in a medium spiced balti sauce
Authentically prepared with fresh herbs & spices
£9.95
Balti Akbari Cham Cham (Medium) Chicken Tikka
Cooked in a special balti sauce with green peppers & spices, medium strength
£7.60
Balti Akbari Cham Cham (Medium) Lamb Tikka
Cooked in a special balti sauce with green peppers & spices, medium strength
£7.60
Balti Akbari Cham Cham (Medium) King Prawn
Cooked in a special balti sauce with green peppers & spices, medium strength
£13.95
Tasty Fish (Medium)
Diced freshwater Bangladeshi fish cooked with fresh green chillies, garlic, green peppers, spring onions & coriander
£7.95
Chicken & Cheese Kofta (Medium)
Cooked with meatballs & homemade cheese in a bhuna style sauce
£7.95
Chakori (Medium) Chicken Tikka
Specially marinated, barbecued in a charcoal clay oven then cooked with a delicious blend of herbs & green chillies in an authentic sauce prepared with an abundance of spices
Garnished with fresh cream & coriander
£7.60
Chakori (Medium) Lamb Tikka
Specially marinated, barbecued in a charcoal clay oven then cooked with a delicious blend of herbs & green chillies in an authentic sauce prepared with an abundance of spices
Garnished with fresh cream & coriander
£7.60
Chakori (Medium) King Prawn
Specially marinated, barbecued in a charcoal clay oven then cooked with a delicious blend of herbs & green chillies in an authentic sauce prepared with an abundance of spices
Garnished with fresh cream & coriander
£13.95
Jale Julay (Hot) Chicken Tikka
Cooked in an exotic mix of hot spices, cooked with onions, capsicum & Naga (hot chillies)
Garnished with extra herbs & spices
£7.60
Jale Julay (Hot) Lamb Tikka
Cooked in an exotic mix of hot spices, cooked with onions, capsicum & Naga (hot chillies)
Garnished with extra herbs & spices
£7.60
Jale Julay (Hot) King Prawn
Cooked in an exotic mix of hot spices, cooked with onions, capsicum & Naga (hot chillies)
Garnished with extra herbs & spices
£13.95
Balti Mashur (Hot) Chicken Tikka
Cooked in special strong spices, onions, green chillies, garlic, touch of fresh yoghurt & fresh cream
Garnished with pieces of lemon, tomatoes, cucumber & coriander
£7.60
Balti Mashur (Hot) Lamb Tikka
Cooked in special strong spices, onions, green chillies, garlic, touch of fresh yoghurt & fresh cream
Garnished with pieces of lemon, tomatoes, cucumber & coriander
£7.60
Balti Mashur (Hot) King Prawn
Cooked in special strong spices, onions, green chillies, garlic, touch of fresh yoghurt & fresh cream
Garnished with pieces of lemon, tomatoes, cucumber & coriander
£13.95
Nepali (Hot) Chicken Tikka
Cooked in exotic mixture of spices, red & green peppers, tomatoes, green chillies in a Nepali sauce
£7.60
Nepali (Hot) Lamb Tikka
Cooked in exotic mixture of spices, red & green peppers, tomatoes, green chillies in a Nepali sauce
£7.60
Nepali (Hot) King Prawn
Cooked in exotic mixture of spices, red & green peppers, tomatoes, green chillies in a Nepali sauce
£13.95
Sagwala (Medium) Chicken Tikka
Lightly spiced with fresh spinach leaves & cooked in slow heat
Garnished with coriander
£7.95
Sagwala (Medium) Lamb Tikka
Lightly spiced with fresh spinach leaves & cooked in slow heat
Garnished with coriander
£7.95
Sagwala (Medium) King Prawn
Lightly spiced with fresh spinach leaves & cooked in slow heat
Garnished with coriander
£13.95
Tandoori Chicken Chaat (Medium)
Marinated in a special tandoori sauce & then barbecued in the clay oven
Cooked in an authentic spicy chaat masala sauce
£7.95
Chef's Royal Biryani (Medium)
Cooked in an exotic mixes of spices with peas & saffron rice topped with an omelette
Served on a bed of lettuce with onion ring, lemon wedges & a curry sauce of your choice
£9.95
Bangladeshi Garlic (Medium) Chicken Tikka
Cooked in a special strong spices, onions, green chillies, whole garlic plum, tomatoes & fresh coriander to give a unique taste
£7.95
Bangladeshi Garlic (Medium) Lamb Tikka
Cooked in a special strong spices, onions, green chillies, whole garlic plum, tomatoes & fresh coriander to give a unique taste
£7.95
Bangladeshi Garlic (Medium) King Prawn
Cooked in a special strong spices, onions, green chillies, whole garlic plum, tomatoes & fresh coriander to give a unique taste
£13.95
Garlic Lava (Hot) Chicken Tikka
Cooked with onion, pepper, green chillies, Bangladeshi hot dry chillies, Bangladeshi garlic sauce, tomatoes, coriander, cooked in a very rich flavouring spice
£7.95
Garlic Lava (Hot) Lamb Tikka
Cooked with onion, pepper, green chillies, Bangladeshi hot dry chillies, Bangladeshi garlic sauce, tomatoes, coriander, cooked in a very rich flavouring spice
£7.95
Asian Style Biryani (Medium)
Chicken tikka, lamb tikka, keema & eggs
Cooked with Bangladeshi onions, green chillies & chef's special recipe
£9.95
Pineapple Fritter
Served with fresh cream, syrup & coconut powder
£3.00
Special Mixed Kebab
Chicken tikka, lamb tikka & seekh kebab
£7.95
Chicken Tikka & Donner Kebab
£7.50
Lamb, Seekh & Donner Kebab
£7.95
Chicken, Seekh & Donner Kebab
£7.95
Feast Kebab
Serves 2 people
Chicken tikka, lamb tikka, seekh kebab & donner meat
£14.95
Sizzling Monster Kebab
Chicken tikka, lamb tikka & donner meat with green peppers, onions, green chillies stir-fried in Bangladeshi tasty sauce
£16.95
Biryani Chicken Tikka
What makes these dishes unique is that they are all prepared with fragrant basmati rice
Served with an omelette & a vegetable curry sauce
£8.50
Biryani Chicken
What makes these dishes unique is that they are all prepared with fragrant basmati rice
Served with an omelette & a vegetable curry sauce
£7.95
Biryani Lamb Tikka
What makes these dishes unique is that they are all prepared with fragrant basmati rice
Served with an omelette & a vegetable curry sauce
£8.50
Biryani Lamb
What makes these dishes unique is that they are all prepared with fragrant basmati rice
Served with an omelette & a vegetable curry sauce
£7.95
Biryani Special Mix
What makes these dishes unique is that they are all prepared with fragrant basmati rice
Served with an omelette & a vegetable curry sauce
£8.95
Biryani King Prawn
What makes these dishes unique is that they are all prepared with fragrant basmati rice
Served with an omelette & a vegetable curry sauce
£13.95
Biryani Prawn
What makes these dishes unique is that they are all prepared with fragrant basmati rice
Served with an omelette & a vegetable curry sauce
£7.95
Biryani Mushroom
What makes these dishes unique is that they are all prepared with fragrant basmati rice
Served with an omelette & a vegetable curry sauce
£6.95
Biryani Mixed Vegetable
What makes these dishes unique is that they are all prepared with fragrant basmati rice
Served with an omelette & a vegetable curry sauce
£6.95
Korma (Mild) Chicken
Cooked with coconut, fresh cream & sugar to form a mild, sweet & creamy dish
£6.30
Korma (Mild) Chicken Tikka
Cooked with coconut, fresh cream & sugar to form a mild, sweet & creamy dish
£6.80
Korma (Mild) Lamb
Cooked with coconut, fresh cream & sugar to form a mild, sweet & creamy dish
£6.70
Korma (Mild) Lamb Tikka
Cooked with coconut, fresh cream & sugar to form a mild, sweet & creamy dish
£6.80
Korma (Mild) Tandoori King Prawn
Cooked with coconut, fresh cream & sugar to form a mild, sweet & creamy dish
£13.95
Korma (Mild) Prawn
Cooked with coconut, fresh cream & sugar to form a mild, sweet & creamy dish
£6.30
Korma (Mild) Fish Tikka
Cooked with coconut, fresh cream & sugar to form a mild, sweet & creamy dish
£6.80
Korma (Mild) Vegetable
Cooked with coconut, fresh cream & sugar to form a mild, sweet & creamy dish
£5.95
Korma (Mild) Mushroom
Cooked with coconut, fresh cream & sugar to form a mild, sweet & creamy dish
£5.95
Madras (Hot) Chicken
Cooked with fairly hot spices, in rich aromatic sauce
£6.30
Madras (Hot) Chicken Tikka
Cooked with fairly hot spices, in rich aromatic sauce
£6.80
Madras (Hot) Lamb
Cooked with fairly hot spices, in rich aromatic sauce
£6.70
Madras (Hot) Lamb Tikka
Cooked with fairly hot spices, in rich aromatic sauce
£6.80
Madras (Hot) Tandoori King Prawn
Cooked with fairly hot spices, in rich aromatic sauce
£13.95
Madras (Hot) Prawn
Cooked with fairly hot spices, in rich aromatic sauce
£6.30
Madras (Hot) Fish Tikka
Cooked with fairly hot spices, in rich aromatic sauce
£6.80
Madras (Hot) Vegetable
Cooked with fairly hot spices, in rich aromatic sauce
£5.95
Madras (Hot) Mushroom
Cooked with fairly hot spices, in rich aromatic sauce
£5.95
Vindaloo (Very Hot) Chicken
One of the most infamous of Indian dishes, prepared with hot chilli spices
A very hot dish
£6.30
Vindaloo (Very Hot) Chicken Tikka
One of the most infamous of Indian dishes, prepared with hot chilli spices
A very hot dish
£6.80
Vindaloo (Very Hot) Lamb
One of the most infamous of Indian dishes, prepared with hot chilli spices
A very hot dish
£6.70
Vindaloo (Very Hot) Lamb Tikka
One of the most infamous of Indian dishes, prepared with hot chilli spices
A very hot dish
£6.80
Vindaloo (Very Hot) Tandoori King Prawn
One of the most infamous of Indian dishes, prepared with hot chilli spices
A very hot dish
£13.95
Vindaloo (Very Hot) Prawn
One of the most infamous of Indian dishes, prepared with hot chilli spices
A very hot dish
£6.30
Vindaloo (Very Hot) Fish Tikka
One of the most infamous of Indian dishes, prepared with hot chilli spices
A very hot dish
£6.80
Vindaloo (Very Hot) Vegetable
One of the most infamous of Indian dishes, prepared with hot chilli spices
A very hot dish
£5.95
Vindaloo (Very Hot) Mushroom
One of the most infamous of Indian dishes, prepared with hot chilli spices
A very hot dish
£5.95
Bhuna (Medium) Chicken
A medium curry with a thick sauce, well spiced with herbs
£6.30
Bhuna (Medium) Chicken Tikka
A medium curry with a thick sauce, well spiced with herbs
£6.80
Bhuna (Medium) Lamb
A medium curry with a thick sauce, well spiced with herbs
£6.70
Bhuna (Medium) Lamb Tikka
A medium curry with a thick sauce, well spiced with herbs
£6.80
Bhuna (Medium) Tandoori King Prawn
A medium curry with a thick sauce, well spiced with herbs
£13.95
Bhuna (Medium) Prawn
A medium curry with a thick sauce, well spiced with herbs
£6.30
Bhuna (Medium) Fish Tikka
A medium curry with a thick sauce, well spiced with herbs
£6.80
Bhuna (Medium) Vegetable
A medium curry with a thick sauce, well spiced with herbs
£5.95
Bhuna (Medium) Mushroom
A medium curry with a thick sauce, well spiced with herbs
£5.95
Rogan Josh (Medium) Chicken
Highly spiced with garlic, fresh herbs & spices with tomato flavour
£6.30
Rogan Josh (Medium) Chicken Tikka
Highly spiced with garlic, fresh herbs & spices with tomato flavour
£6.80
Rogan Josh (Medium) Lamb
Highly spiced with garlic, fresh herbs & spices with tomato flavour
£6.70
Rogan Josh (Medium) Lamb Tikka
Highly spiced with garlic, fresh herbs & spices with tomato flavour
£6.80
Rogan Josh (Medium) Tandoori King Prawn
Highly spiced with garlic, fresh herbs & spices with tomato flavour
£13.95
Rogan Josh (Medium) Prawn
Highly spiced with garlic, fresh herbs & spices with tomato flavour
£6.30
Rogan Josh (Medium) Fish Tikka
Highly spiced with garlic, fresh herbs & spices with tomato flavour
£6.80
Rogan Josh (Medium) Vegetable
Highly spiced with garlic, fresh herbs & spices with tomato flavour
£5.95
Rogan Josh (Medium) Mushroom
Highly spiced with garlic, fresh herbs & spices with tomato flavour
£5.95
Dopiaza (Medium) Chicken
Fresh chunks of onions with fresh herbs to give a spicy medium curry
£6.30
Dopiaza (Medium) Chicken Tikka
Fresh chunks of onions with fresh herbs to give a spicy medium curry
£6.80
Dopiaza (Medium) Lamb
Fresh chunks of onions with fresh herbs to give a spicy medium curry
£6.70
Dopiaza (Medium) Lamb Tikka
Fresh chunks of onions with fresh herbs to give a spicy medium curry
£6.80
Dopiaza (Medium) Tandoori King Prawn
Fresh chunks of onions with fresh herbs to give a spicy medium curry
£13.95
Dopiaza (Medium) Prawn
Fresh chunks of onions with fresh herbs to give a spicy medium curry
£6.30
Dopiaza (Medium) Fish Tikka
Fresh chunks of onions with fresh herbs to give a spicy medium curry
£6.80
Dopiaza (Medium) Vegetable
Fresh chunks of onions with fresh herbs to give a spicy medium curry
£5.95
Dopiaza (Medium) Mushroom
Fresh chunks of onions with fresh herbs to give a spicy medium curry
£5.95
Pathia (Hot) Chicken
Sweet, hot & sour, cooked with tomatoes, onions flavoured with coriander
£6.30
Pathia (Hot) Chicken Tikka
Sweet, hot & sour, cooked with tomatoes, onions flavoured with coriander
£6.80
Pathia (Hot) Lamb
Sweet, hot & sour, cooked with tomatoes, onions flavoured with coriander
£6.70
Pathia (Hot) Lamb Tikka
Sweet, hot & sour, cooked with tomatoes, onions flavoured with coriander
£6.80
Pathia (Hot) Tandoori King Prawn
Sweet, hot & sour, cooked with tomatoes, onions flavoured with coriander
£13.95
Pathia (Hot) Prawn
Sweet, hot & sour, cooked with tomatoes, onions flavoured with coriander
£6.30
Pathia (Hot) Fish Tikka
Sweet, hot & sour, cooked with tomatoes, onions flavoured with coriander
£6.80
Pathia (Hot) Vegetable
Sweet, hot & sour, cooked with tomatoes, onions flavoured with coriander
£5.95
Pathia (Hot) Mushroom
Sweet, hot & sour, cooked with tomatoes, onions flavoured with coriander
£5.95
Sambar (Hot) Chicken
A hot sweet & sour curry, cooked with lentils & lemon
£6.30
Sambar (Hot) Chicken Tikka
A hot sweet & sour curry, cooked with lentils & lemon
£6.80
Sambar (Hot) Lamb
A hot sweet & sour curry, cooked with lentils & lemon
£6.70
Sambar (Hot) Lamb Tikka
A hot sweet & sour curry, cooked with lentils & lemon
£6.80
Sambar (Hot) Tandoori King Prawn
A hot sweet & sour curry, cooked with lentils & lemon
£13.95
Sambar (Hot) Prawn
A hot sweet & sour curry, cooked with lentils & lemon
£6.30
Sambar (Hot) Fish Tikka
A hot sweet & sour curry, cooked with lentils & lemon
£6.80
Sambar (Hot) Vegetable
A hot sweet & sour curry, cooked with lentils & lemon
£5.95
Sambar (Hot) Mushroom
A hot sweet & sour curry, cooked with lentils & lemon
£5.95
Dansak (Medium) Chicken
Sweet & sour cooked with lentils & pineapple
£6.30
Dansak (Medium) Chicken Tikka
Sweet & sour cooked with lentils & pineapple
£6.80
Dansak (Medium) Lamb
Sweet & sour cooked with lentils & pineapple
£6.70
Dansak (Medium) Lamb Tikka
Sweet & sour cooked with lentils & pineapple
£6.80
Dansak (Medium) Tandoori King Prawn
Sweet & sour cooked with lentils & pineapple
£13.95
Dansak (Medium) Prawn
Sweet & sour cooked with lentils & pineapple
£6.30
Dansak (Medium) Fish Tikka
Sweet & sour cooked with lentils & pineapple
£6.80
Dansak (Medium) Vegetable
Sweet & sour cooked with lentils & pineapple
£5.95
Dansak (Medium) Mushroom
Sweet & sour cooked with lentils & pineapple
£5.95
Chutney (Each) Special Red
£0.70
Southern Fried Chicken 01 Piece & Chips
£2.10
Southern Fried Chicken 02 Pieces & Chips
£3.50
Southern Fried Chicken 03 Pieces & Chips
£4.50
Family Box
8 Pieces chicken, 4 chips
£13.95
Aloo Gobi
Potato & cauliflower
£3.30
Meal Deal A for 1 Person
Starters:
2 Poppadom & chutneys, meat samosa
Main Course:
Balti akbari cham cham
Side Dish:
Bombay potato
Sundries:
Pilau rice & naan
£14.95
Meal Deal B for 2 Persons
Starters:
3 Poppadom & chutneys, chicken tikka & onion bhaji
Main Course:
Balti akbari cham cham, chicken bhuna
Side Dish:
Mixed vegetable bhaji
Sundries:
Pilau rice & naan
£24.95
Meal Deal C for 2 Persons
Starters:
3 Poppadom & chutneys, meat samosa & onion bhaji
Main Course:
Chicken tikka masala & balti chicken
Side Dish:
Mushroom bhaji
Sundries:
Pilau rice & naan
£24.95
Meal Deal D for 4 Persons
Starters:
5 Poppadom & chutneys, meat samosa, chicken tikka, seekh kebab & garlic chicken
Main Course:
Balti akbari cham cham, chicken bhuna, lamb tikka masala & balti chicken
Side Dish:
Large Bombay potatoes
Sundries:
2 Pilau rice & 2 naan
£48.95
Tandoori Meal for 2 Persons
Starters:
3 Poppadom & chutneys, chicken tikka & seekh kebab
Main Course:
Chicken tikka shashlik & lamb tikka
Side Dish:
Masala sauce
Sundries:
Pilau rice & naan
£27.95
Balti Chicken Tikka Medium
£7.50
Balti Chicken Tikka Vegetables
£7.95
Balti Chicken Tikka Mushrooms
£7.95
Balti Chicken Tikka Spinach
£7.95
Balti Chicken Tikka Chickpeas
£7.95
Balti Lamb Tikka Vegetables
£7.95
Balti Lamb Tikka Mushrooms
£7.95
Balti Lamb Tikka Chickpeas
£7.95
King Prawn Balti Vegetables
£13.95
King Prawn Balti Mushrooms
£13.95
King Prawn Balti Chickpeas
£13.95
Contact Us
Find Us
86 High Street, Oldham, OL45AA
We deliver to
OL1, OL2, OL3, OL4, OL5, OL8, OL9